Spreading Awareness Through the #Icebucketchallenge
Unless you live under a rock, the ALS #icebucketchallenge has probably taken over your newsfeed at some point in the last few weeks. Amyotrophic lateral sclerosis (ALS), often referred to as "Lou Gehrig's Disease," is a progressive neurodegenerative disease that affects nerve cells in the brain and the spinal cord. To #strikeoutALS, people post a video of themselves dumping ice water on their heads or they must donate $100 to als.org, although some do both. But, how did the challenge really begin?
On 15 July a golfer in Florida, Charles Kennedy, was nominated by a friend to do an Ice Bucket Challenge. At the time, this challenge was not linked to one specific charity but Kennedy chose to donate to ALS because his cousin suffered from the disease. He then nominated his cousin's wife and urged others to join in too. It then reached another ALS sufferer, Pat Quinn from New York. Quinn launched the campaign with the help of friend Pete Frates, a former Boston college basketball player who also suffers from the condition. Frates is credited with helping the challenge truly go viral after he posted a video nominating friends and stars including US football player Tom Brady.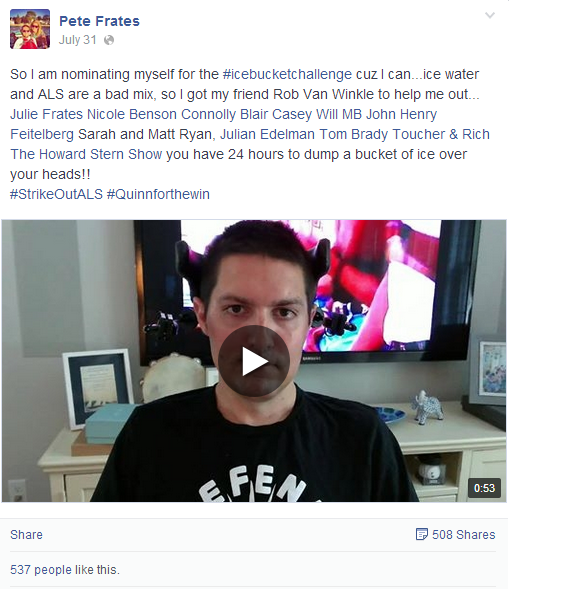 Since the fundraising took off less than a month ago, the ALS Association reports that it received $31.5 million in donations compared to $1.9 million during the same time period last year (July 29 to August 20).
The challenge seems to be like many other social media campaigns that become popular and disappear just as quickly overnight. Some critics of the challenge say participants are just "slacktivists," concerned about showing support while really doing nothing to help the cause. This could be true, but even if participants decide not to donate, they are still creating awareness for a disease that many people know nothing about and that is what this challenge is all about. The important piece in all this chaos on social media is to spread the word about ALS even if you decide not to dump ice water on your head and instead donate to the cause, or vice versa.
While the ice bucket challenge continues to be seen on social media, why not join in the fun while passing on the message of awareness? To donate or learn more about the disease, visit ALS.org.