Your Most Underutilized PR Resource: Your Employees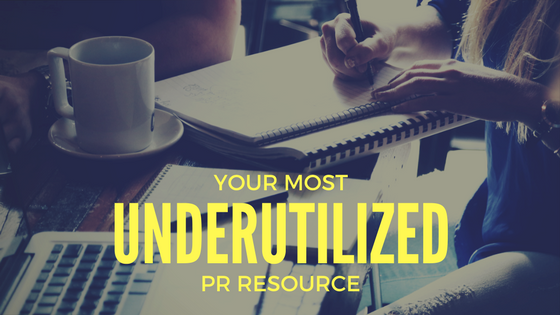 Listening to your customers via social media, review sites, website comments and other digital forums has become second nature for most businesses, but many aren't always the best at listening to their own employees' stories. That means many businesses are missing out on a major internal resource for their PR efforts. Your own employees can be an excellent source for compelling stories that humanize your brand, engage your customers and add authenticity to your marketing, so it's crucial that you recruit good employees for your business. Here's why you should consider sourcing stories from within your business:
Why are employee stories important for PR?
Sometimes the most effective way to tell your business or product story isn't through the CEO or the voices of your customers, but by sharing the experiences of your employees. According to the 2017 Edelman Trust Barometer, employees are trusted between 16-38 percent more than CEOs on issues ranging from financial earnings to innovation. Today's audiences can tell when a story is a little too sleek. In the age of social media and constant digital connection, authenticity is key to connecting with customers. Adding the right internal voice to your PR efforts lends credibility to your cause and showcases that your company practices what it preaches.
A product designer may have a fascinating reason why a feature was added to a product, or an engineer might be the best voice to debate a hot topic in your industry. Do you have employees that volunteer their professional skills in the community, or have inspiring stories about how they came to be where they are? These are all good starting points to begin connecting with your employees and start working their stories into your PR strategy.
The payoff
Sourcing stories from your employees can provide a big payoff for your PR campaigns. Take for example this Business Insider story of two Google employees who lived in their van for two years, which highlights the unique culture and opportunities the company provides. Or this Portland Business Journal story about a Regence Blue Cross Blue Shield team investigating fraudulent Medicare billing, which drives up costs for their customers. By mining stories from their internal teams, both companies leveraged new ideas that share their message and lend an extra air of authenticity to their brand story.
How do I start uncovering these stories?
There's a simple way to start gathering employee stories: listen. Your business likely already has a variety of methods for this, from regular team meetings to staff recognition programs. Start mining those existing efforts for new story ideas. Your team managers and HR will be your best friends here – start a regular dialogue to help them start thinking in "story mode." Since they spend the most time interacting with employees, it's paramount to get them thinking about PR as an everyday activity and start sharing stories that could be good candidates for PR outreach.