Miley Cyrus, PR Genius or Wrecking Ball?
I think most of America is in agreement that what happened on the VMA stage between Miley Cyrus, Robin Thicke and a foam finger was an utter trainwreck and something we'll be trying to erase from our memories for a long time to come.  However, now that the dust has settled (a bit) and we come further to terms with the new Miley (Hannah Montana who?), it's been interesting to watch public opinion form and shift around her.
In the seconds, minutes and days following the performance the outrage could be heard around the world – even within the entertainment world, which isn't an easy one to shock.  Pictures of Will Smith's family gaping in horror from the audience were plastered in tabloids, Cher blasted the outfit, performance and singing as "all just terrible," and even Miley's good friend Kelly Osbourne said what we were all thinking: "Put your f–king tongue in your mouth!" But who really will get the last laugh?
This week Cher went on the TODAY Show and admitted that perhaps she was a bit harsh and should have kept her mouth quiet.  Justin Timberlake was also on the TODAY Show and when asked for his take on Miley, he chose his words very carefully but all in all offere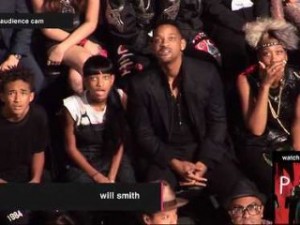 d support by calling her "smart and talented," and noting society's desire to label someone every 10-15 years as the kind of person "we do or don't want our daughters to be."  And really – who doesn't trust JT?  If she had to have someone offer a level-headed comment about the debacle, she couldn't have found a better spokesperson.
The girl has already managed to go from child star to superstar; create her own successful brand apart from her very famous, mullet-wearing, Achy Breaky dad; have most of us forget about a creepy, too-close-for-comfort daddy/daughter photoshoot in Vanity Fair a few years back; and offer up some nonsense about a salvia bong. Maybe all this current chaos shouldn't be so surprising, but instead seen as part of the Miley Cyrus, PR master plan.
What can't be denied is that Miley's single is at the top of the music charts and there has never been more buzz about her.  Some say "no publicity is bad publicity."  I for one don't buy that, but I have to wonder if in this case Miley might just prove me wrong – again.