Lego's new female scientists
You may remember hearing about a 7-year-old girl earlier this year who wrote a letter to toy manufacturer Lego complaining that there were not many options for girl Lego figurines. Lego had recently been criticized for gender-stereotyping when it released a "Lego Friends" line targeted to girls, featuring pink and purple pastel colored sets, such as a beauty parlor, bakery and fashion show catwalk.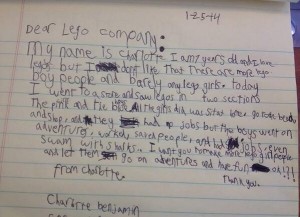 The letter reads:
Dear Lego company:
My name is Charlotte. I am 7 years old and I love Legos but I don't like that there are more Lego boy people and barely any Lego girls.
Today I went to a store and saw Legos in two sections — the girls' pink and the boys' blue. All the girls did was sit at home, go to the beach, and shop, and they had no jobs but the boys went on adventures, worked, saved people, and had jobs, even swam with sharks.
I want you to make more Lego girl people and let them go on adventures and have fun, ok!?!
Thank you.
From Charlotte
The letter was retweeted over 2,000 times and shared on Facebook over 5,000 times.
Lego responded in a letter, "LEGO play has often been more appealing to boys, but we have been very focused on including more female characters and themes that invite even more girls to build."
It looks like Lego kept its promise as earlier this month the company released science-themed play sets featuring the first Lego female scientists, including an astronomer, a paleontologist and a chemist.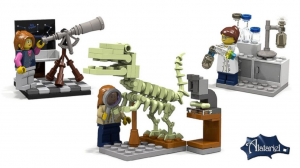 The idea for the new collection had been submitted to Lego Ideas, a fan-based online community that allows the Lego fans to vote on potential collections, by Swedish geochemist Ellen Kooijman and was voted for over 10,000 times.
Kooijman described her inspiration on her blog, saying, "As a female scientist I had noticed two things about the available LEGO sets: a skewed male/female minifigure ratio and a rather stereotypical representation of the available female figures. It seemed logical that I would suggest a small set of female minifigures in interesting professions to make our LEGO city communities more diverse."
As a mom whose young daughter loves dirt and bugs as much she loves princesses and baby dolls, I want to encourage her to pursue all her interests, and hope that the toys she plays with inspire her and don't discourage her future interests, by for being for "boys only." I am pleased to see Lego taking a step in the right direction.