Happy International Women's Day from A.wordsmith!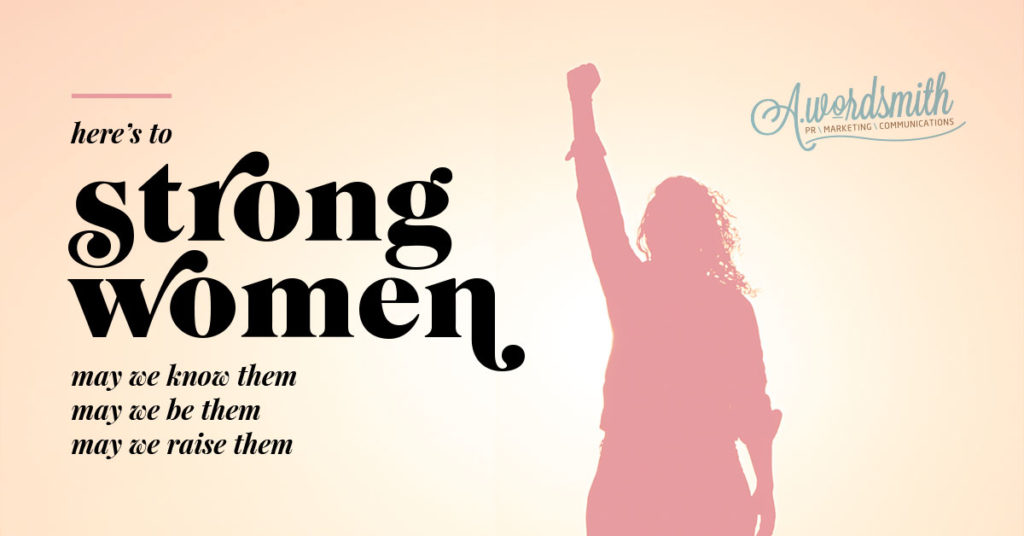 In honor of International Women's Day, we each took some time to reflect on the women who inspire us. Although there are countless women to celebrate, we narrowed it down to a handful of extraordinary, tenacious and fearless women who have each changed the game in their own way.
Ann: Dolly Parton
A trailblazer, feminist, business woman, actress, music legend, activist, fashion icon, wife and philanthropist all wrapped up in a tiny blonde package of spunk, sass and savvy. Dolly embodies a special spirit that never seems to fade regardless of how many years she's been in the public eye, the challenges she's faced or the opportunities she's conquered. She lives a life unafraid of speaking up, pushing limits and being her true self, often in the face of social norms and expectations. Her looks have always been a talking point but if you were to ask me what I think she looks like, I'd simply say: "One incredible woman."
Gretchen: Kara Goucher
Kara is a wife, a mom and a well-known long-distance runner who stands up for what she believes in. An advocate for clean sport, she reported Alberto Salazar to the U.S. Anti-Doping Agency – despite the fact that Salazar, a veritable running icon and her coach between 2004 and 2011, was a like a father figure to her. Through her writing and interviews, she is refreshingly open and honest about her career, self-doubts and expectations.
Lisa: Mom and Joannie
There are two women that come to mind, that are a constant source of inspiration and awe:
Being a mom with two children under the age 4, I am inspired daily by my mother and how she managed raising two sets of twins. I will always be appreciative of how awesome she is.
My mentor and dear friend Joannie is like a second mother to me. I met Joannie while I was an entry-level publicist at LVMH in NYC and she was running her own PR agency with her husband, Nick. Joannie took me under her wing and has been a role model to me ever since. I am continually inspired by Joannie's strong work ethic and approach, while also being a devoted mother and wife. She also has been incredibly supportive of young women within the industry and previously served as President for New York Women in Communications. I will always be grateful for Joannie's friendship and support.
Natalie: Carrie Fisher
I have always admired Carrie Fisher! I am a movie lover, a geek through and through and definitely a fan of Star Wars and Princess Leia. Carrie was a very open about her personal struggles and the need to take care of ourselves. Even at her lowest points, she fought through with grace, strength and a little bit of sass. "If my life wasn't funny, it would just be true, and that's unacceptable." – Carrie Fisher
Hailey: Charissa Lucille
I really admire my longtime friend Charissa Lucille, who has helped build a groundswell in Phoenix of self-publishing artists and creators. She was looking for a way to express her creativity after college, and began producing zines, which are independently self-published booklets. That eventually grew into her retail business and community event space, Wasted Ink Zine Distro, where she now houses more than 500 self-published titles from around the world.
Savanna: Lauren Fleshman
A woman I look up to is Lauren Fleshman. She's a former professional runner who is now a coach, business owner of Picky Bars and writer who offers running/writing workshops. I've followed Lauren for a while and she's someone who's real, open and gusty; so you feel like you know her, even when you don't. She pursues her passions and also balances being a mom and wife to her pro-triathlete husband. Even if running isn't my personal passion, I'm inspired by people who build their lives around the things that drive them.
Kris: Malala Yousafzai
This is a hard one, since there are SO MANY women I admire for their strength, courage, intelligence, creativity, and leadership (including many of the women in my own family!). But one of the women in more recent history I greatly admire and am so inspired by is Malala Yousafzai. I can only dream of having a fraction of her courage, grace, poise and determination in such incredibly challenging (and dangerous) circumstances. I am inspired by her sense of self at such a young age, her strength to demand justice in the face of deadly consequences, and her eloquence, intelligence and conviction in her continuous fight for equality. She's amazing.
Addy: Mia Hamm
Mia Hamm has been my idol since I was very young. I hung her posters and uniforms all over my childhood bedroom as a constant reminder of what perseverance, bravery and attitude could achieve. During her professional career, she held the world record for the most international goals scored by a soccer player – male or female. She led a generation of girls to pursue sports and empowered them to be stronger, faster and smarter than the boys. Now as a mother, wife, philanthropist, author and Hall of Famer, Mia Hamm still inspires women everywhere to break through those glass ceilings and challenge the status quo.