A.wordsmith's Autumn Reads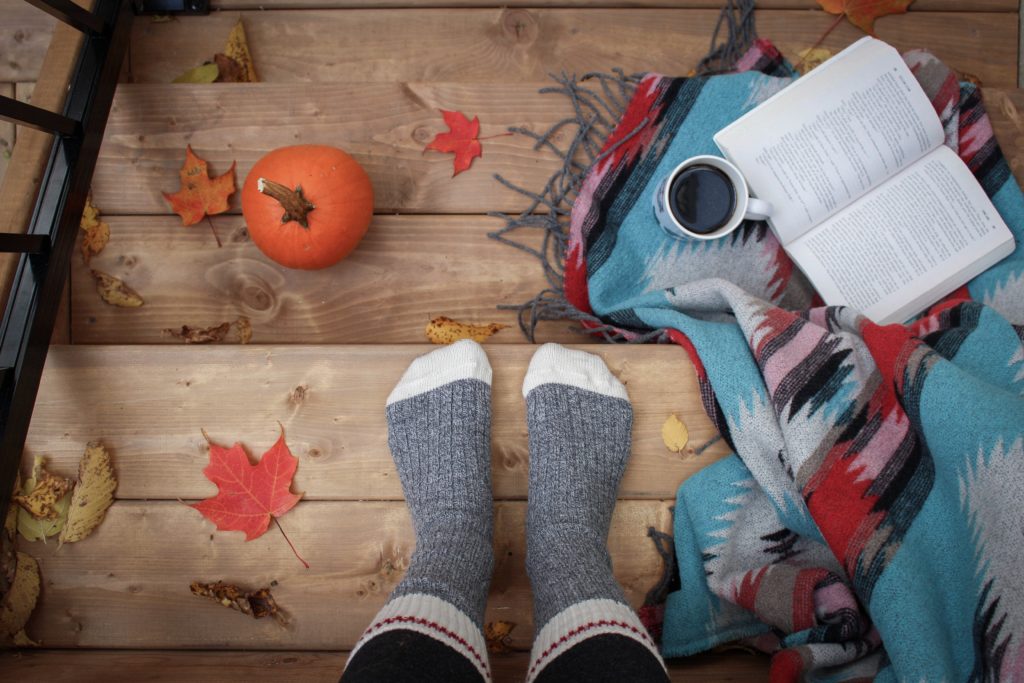 Fall is the perfect time to refresh your reading list. Our team loves a good book and we've shared some of our recent favorites below. Happy reading!
Sean:
Bad Blood: Secrets and Lies in a Silicon Valley Startup, by John Carreyrou
I recently read Bad Blood, a book detailing the Theranos fiasco. It's so interesting to learn that people will put millions of dollars behind an idea – and how long you can get away with pretending something revolutionary exists, when in fact it doesn't.
Hannah:
The Hate U Give, Angie Thomas
I'm halfway through The Hate U Give by Angie Thomas. The book is about a sixteen-year-old girl who witnesses her friend getting shot and killed, while unarmed, by a police officer. She is stuck having to make a choice of whether to stand up for her friend and what's right, even though it could bring danger. The book addresses issues that our world is facing right now – and is about to become a movie – so I highly recommend giving it a read! You won't regret it.
Ann:
Dare to Lead by Brené Brown and You Think It, I'll Say It  by Curtis Sittenfeld
Professionally I'm reading Dare to Lead by Brené Brown. It focuses on one of my favorite beliefs that leadership is not based on titles or seniority but on having the courage to pursue an opportunity, even when it's scary as hell. It's about putting yourself out there and daring to be brave, oftentimes when you also feel most vulnerable.
For pleasure I'm reading You Think It, I'll Say It by Curtis Sittenfeld. It's a collection of smart, funny and heartfelt short stories that tackle modern-day topics and are especially relatable to anyone who is a mother and/or wife.
Kris: 
Americanah by Chimamanda Ngozi Adichie 
I'm currently reading the novel Americanah by Chimamanda Ngozi Adichie, which follows the lives of two Nigerian immigrants, first as a young couple in Nigeria, and then throughout their separate lives as they emigrate away from and then return to their home country. The accounts of the immigrant experience are moving and revealing about cultural norms I take for granted here in the states, and the exploration of identity as the two characters come of age grappling with their place in the world and their relationship with each other is simultaneously eye-opening and relatable.
Addy:
The Sun Does Shine by Anthony Ray Hinton
I recently finished The Sun Does Shine by Anthony Ray Hinton and I will NEVER be the same. Highly recommend, it will make you cry – but hang in there.
Lisa:
All The Light We Cannot See, by Anthony Doerr
As a storyteller and avid reader at heart, I'm deeply inspired by the emotional connection of a powerful narrative. Lately, I've been engrossed in books related to World War II, especially those where multiple character perspectives, timelines and circumstances intertwine. One of the favorite books is "All the Light We Cannot See," which is a heartbreaking, enlightening and inspirational tale of a blind French girl and a German boy whose paths collide as both struggle to survive the devastation of the war around them. Similarly captivating novels include The Nightengale, The Lilac Girls, We Were the Lucky Ones and The Alice Network.
Hailey:
Do Androids Dream of Electric Sheep? by Phillip K. Dick
I've been reading Do Androids Dream of Electric Sheep? by Phillip K. Dick, which is the book that Blade Runner is based on. His futuristic worlds are wonderfully built, and I think the way he captures what Americans in the 1960s thought the future would look like is fascinating.
Savanna:
The Summer Before the War, by Helen Simonson
I recently finished The Summer Before the War by Helen Simonson. It's about a teacher in a rural English village right before the start of World War I. I love books with great character development and this story did not disappoint. It made me laugh and cry – I couldn't put it down! If you enjoyed Downton Abbey, you'll love this book. Next on my list is Simonson's bestseller, Major Pettigrew's Last Stand.
Natalie:
Little Fires Everywhere by Celeste Ng
I recently finished Little Fires Everywhere by Celeste Ng – I read it in about 48 hours because I couldn't stop reading! It's a look at suburban life in America and the secrets people keep from our neighbors, friends and even our families, and how those secrets can be our undoing. It was also very timely and gave me a lot to mull over about the secrets women feel forced to keep, and the judgment we can face by just living our truth.