Teamwork Makes the Dream Work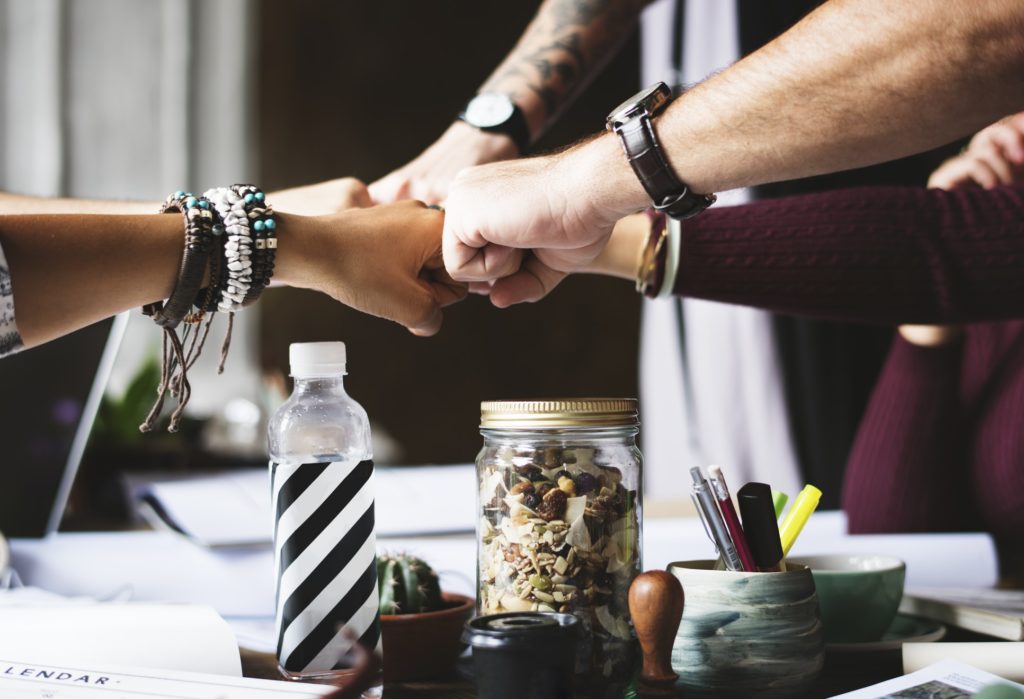 Team-building activities are an important part of every office. Taking the time to connect on a personal level outside the normal day-to-day routine will strengthen relationships, encourage better communication, boost productivity and foster a more collaborative work environment. Here at A.wordsmith, we engage in several out-of-office events throughout the year that all contribute to our unstoppable team dynamic. With our office beach trip coming up in August, we each took some time to reflect on some of our favorite past team-building events (Opal Creek takes the cake). After all, teamwork makes the dream work!
Ann:
The teambuilding event that stands out to me was our trip to Opal Creek last summer.  It's one of my favorite places already but sharing it with the A.wordsmith team was special and a great way to connect in a totally different way – away from computers and emails and the confines of a typical workday.  It was fun seeing who the daredevils are (hello Kelda and Savanna); who gets up early (hi Hailey); and who's the fastest hiker in the group (looking at you Gretchen). I know that spending the night with colleagues, and going totally off the grid aren't necessarily everyone's first choices of how to spend a day in August but it was great having everyone there, laughing and hanging out in that setting.  And from a work front I would add that despite only carving out a short couple of hours for actual "meeting time" at Opal Creek we made some of the most actionable and influenceable decisions for the firm since it's founding in 2009.  Amazing what that fresh air can do for the brain.
Gretchen:
A while back, we capped off one of our quarterly retreats with a team zip-lining experience. Up on a platform high in the trees, we were all a bit out of our comfort zone and learning the ropes together. It was a great opportunity to get outside, have fun and get to know each other better in a completely new setting.
Lisa:
My most memorable team-building experience was at the Tree to Tree Adventure Park in Forest Grove, Oregon. I'm not an outdoor enthusiast by any means, yet the combination of ropes courses, zip-lining and other mindset challenges in a gorgeous setting reinforced the critical importance of communication, collaboration and trust – both with colleagues and clients alike. Learnings gleaned from the offsite helped to inform individual (and collective) leadership styles and client service standards. And it was a ton of fun to boot!
Natalie:
Our team retreat to Opal Creek last year was a particularly fun one. We all spend a lot of time on our phones and computers both at work and in our personal lives, and Opal Creek is off the grid, with no cell reception, so it forced us to completely check out for a few days. It was nice to be in such a beautiful location with no distractions and spend time together away from the office with just our team.
Hailey:
Each month, our team hosts a brownbag lunch where we each bring an item for a themed lunch – such as salad, brunch or Mexican – and one person gives a presentation that helps the whole team learn something new. Past topics have included managing a successful broadcast segment, tips for writing various types of content and an overview of the design process. Our brownbag lunches are a great opportunity to learn together while also sharing some delicious homemade food!
Savanna:
My favorite team building event we've done was our trip to Opal Creek. I always feel super inspired being outside and unplugged. Opal Creek is a gorgeous place and being free of distractions allowed us to come up with some great ideas and bond as a team.
Kris:
We've had some fun team building experiences at A.wordsmith! For me, the ones that stand out are those that get everyone just a little outside their comfort zones. Of course happy hours are always a good time, but the times we've gone zip lining (!), gone to the driving range (how do I swing this thing?), or spent a night in the beautiful Opal Creek wilderness have resulted in interesting, open conversations, stronger team bonds, and positive long-lasting memories. Perhaps it's because those events inspire a good balance of fun getting-to-know-you time with some of the deeper work around where we've been as a team, and where we'd like to go next, both personally and professionally.
Addy:
The team-building event that had the biggest impact on me was the day we spent at the McMenamins Hotel Oregon in McMinnville. I was the newest employee at the time and was a bit unsure of how I would fit into an already established team culture but those concerns quickly faded as I felt the welcoming, supportive and inspiring nature of this hard-working team. We spent the day setting goals, sharing stories and discussing strategies that have continued to fuel our determination and grit into 2018 and beyond.
Hannah:
As the newest member of the A.wordsmith team, I have valued every opportunity to get to know people here. Growing with your team on a personal and professional level makes the workplace more fun and especially more productive – as contradictory as that sounds, it's true. The more comfortable I feel around everyone, the more likely I am to speak up with a question or an idea. Although I've only been in Portland for a month and a half, I've already experienced a few team-building exercises like taking a walk around the block, a potluck-style brown bag meeting and a family baseball outing. Getting to experience so many things in such a short amount of time makes me eager for what's to come – which is getting to know this strong, powerful, tight-knit group of women.