Summer Tips to Recharge and Inspire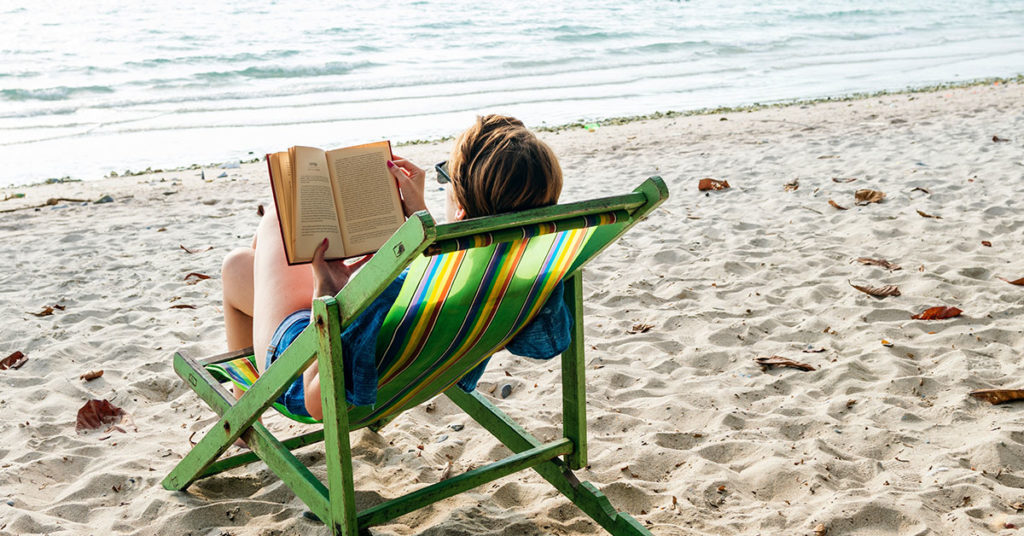 While the summer months bring gorgeous weather, longer days and tropical getaways (coupled with copious amounts of fruity cocktails), it's also a fantastic time to reflect on your personal and professional development goals for the year ahead, while luxuriating in the power of self-care and rejuvenation. In today's blog, our team shares our favorite summertime plans to spark inspiration, sharpen our creative focus and ultimately bolster our collective expertise.

Ann
For me summertime is fast and free-wheelin'. There's less time for organized learning through conferences and books and more time for learning via living. It's about taking a few extra days off, exploring a new country (Ireland this week!), worrying less about the driving routine associated with the school year and just letting the kids relax and enjoy a bit more sleep in the morning and TV at night. It's about getting outside in this beautiful state; taking the laptop outside on the deck with a glass of Rose on a Friday afternoon; making the trek into Opal Creek Ancient Forest in July; singing loud and pretending I'm still in my 20s during my annual (this year is #16) girls weekend trip to see Kenny Chesney; and watching my favorite keeper make big saves in more than a few weekend soccer tourneys. So, for me summer is loud – and bright – and fun. It's a time to live out loud and soak up as much vitamin D as possible (with sunscreen on, of course) to carry us through until it's this season once again.

Kelda
On my 2-week road trip I plan on reading some of the personal and professional development books I've had on my list forever, including "You Are A Badass," which I just snagged from the firm library.

Hailey
I've started attending Toastmasters to improve my public speaking as well as my speaking evaluation skills. Giving an impromptu speech on a topic that you haven't prepared for is difficult, but great practice to provide better on-the-spot recommendations.

Lisa H.
As a storyteller and voracious reader, I'm deeply inspired by a powerful narrative (with a glass of sparkling rose of course!). In that vein, I'll be spending the summer reading biographies and bestsellers of business leaders who overcame great personal/professional challenges to achieve resounding success, along with one of my favorite real-talk books for recovering perfectionists – "The Subtle Art of Not Giving A F***." There are so many amazing insights you can glean from learning about the personal routines, best practices and philosophies of those you admire. Additionally, I'm making a concerted effort to be more present – less focused on the digital world and the incessant notifications that come along with it, and more focused on soaking up the gorgeous weather, enjoying one more glass of prosecco, appreciating the beauty of nature, taking time for the ones I love and living life to the fullest.

Natalie
I will be focusing on my creativity this summer. I feel the more space I give myself to be creative in my personal life, the more resources and ideas I have to bring to my career. I'm planning on taking a course in InDesign through the local community college, making time to work on my photography skills, and learning to play guitar.

Addy
I plan to participate in the PRSA writing boot camp this summer to continue my professional development and to sharpen my writing skills. I have also set a goal for myself to pick up books that I normally wouldn't go for – I think it's important to continue seeking new insights and inspirations.

Savanna
This summer I'm honing my social media skills by taking a PRSA course. Additionally, in my free time I'm prioritizing time in the outdoors soaking up Oregon's beauty – it's the best way to come back to work refreshed and inspired!

Lisa
I tend to find inspiration personally and professionally while I'm travelling or enjoying time outdoors. My mind is in a state of relaxation and reflection during these moments. This summer, in addition to attending a leadership seminar, I'll be traveling to a place that never ceases to inspire – "The City That Never Sleeps!" In my suitcase, I'll be packing a book from this list.

Kris
This summer, I'm hoping to carve out time to learn a new web design tool increasingly being used in web design: Sketch. Between the free trial, oodles of online tutorials, and some helpful pointers from a colleague who's fluent in the program, my goal is to enter the fall with a new tool at my disposal and the confidence that comes from knowing I'm doing all I can to keep up with ever-changing industry practices.

Hannah
My summer's major step, or leap, towards advancing my career was moving across the country to take a new position. This transition will grow me both professionally and personally, molding me into a more mature and experienced professional. In addition, I plan to read many books and join informational webinars. The summer is a great time to learn!