Russia's Failed PR Campaign
The IAAF's decision to uphold the ban on Russian track and field athletes competing at the Rio Olympics presents yet another opportunity to examine how athletes, and entire sports and countries, respond to accusations of doping.
Vitaly Mutko, Russia's sports minister, initially reacted furiously to the allegations against Russia, describing them as a "political hit job," but as it became clear that its track and field athletes were in very real danger of being banned from the Olympics, he took another tack.
In May, in a marked departure from his earlier statements, Mutko wrote an op-ed for London's Sunday Times with the headline: "Russia Is Sorry And Has Cleaned Up Its Act. Please Let Us Compete In Rio." This sudden shift in messaging coincided with the hiring of PR giant Burson Marsteller by Mutko's ministry to help with crafting its image in the international press and break with Russia's failed PR attempts. Burson-Marsteller is a New York-based global public relations firm whose client roster includes some of the most vilified in the country, including the Philip Morris tobacco company.
In this instance, Russia's failed PR offensive over the doping ban was clear, asserts The Guardian: "As the reality of being barred from the Olympics hit home, defiance gave way to pleading for clean athletes not to suffer but the change has not worked."
Russia's sports ministry is hardly the first institution to be rocked by a doping scandal. Here's a look at some of the more recent ones.
What Russia Could Have Learned From Maria Sharapova: Admit Wrongdoing, Before You're Forced to Do So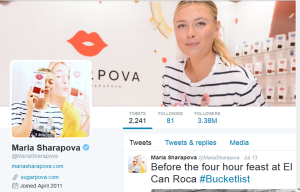 Accepting responsibility for wrongdoing quickly in a crisis situation is paramount. Take, for example, the case of Maria Sharapova, who hit the news in March with a doping crisis. Rather than waiting for the media to reach out to her, she broke the news herself in a press conference. Experts cite some pluses in her response, including that she displayed remorse in what appeared to be an unscripted performance, providing full details of her failed drug test (quashing media speculation) and proactively taking control of the situation.
Sharapova also reached out directly to some of her biggest fans – the 19 million followers on Facebook and LinkedIn. She used Facebook to lay out some of the facts of the case and used Twitter to thank her fan base, which had responded to the crisis almost immediately with hashtags showing their support:
"…In this moment, I am so proud to call you my fans. Within hours of my announcement, you showed me support and loyalty, which I could only expect to hear when someone would be at the top of their profession."
What Russia Could Have Learned from Paula Radcliffe: Set the Agenda on Your Terms
Taking control of the conversation is another key strategy. When a UK House of Commons committee on culture, media and sport mentioned that a winner of the London marathon was potentially under suspicion of doping, Paula Radcliife went on the offensive, even though she hadn't been called out by name. Radcliffe responded with a 1,700-word rebuttal, and the subsequent media coverage focused on her statements, not those of her accusers. Among the headlines were: "I'm no drugs cheat" (Daily Mail), "B​y linking me to allegations damage done to my name can never be fully repaired" (The Guardian) and "Paula Radcliffe 'categorically' denies cheating" (BBC online).
For more detail on the key components of crisis communication, read our earlier blog: A Breakdown of Crisis Communications.
Image courtesy of stock images at FreeDigitalPhotos.net