Don't do this: the worst brand blunders of 2015
'Tis the season for recaps of the year's best and worst!
In recent year's past, it has been easy to blame brand blunders on social media. Fast twitch communications developed by junior-level social media staff will always be a recipe for disaster. But the worst of 2015 features a diverse blend of goof-ups, many of which are clearly part of a high-level strategic direction that could benefit from some fine-tuning.
The theme of 2015's biggest blunders seem to be inappropriately sexual. An odd choice, to say the least, but Budweiser, Bloomingdales, ESPN and even IHOP all got on board with the theme du jour. We hope for their sake that 2016 brings greater awareness — and an improved quality control mechanism — in how their humor could be construred as downright offensive.
I for one am all about pushing the envelope, and in an incredibly saturated media landscape its a great strategy for standing out. Just be sure the envelope is being pushed in the right strategic direction, one that maps to your vision and mission, not the humor standards of a bunch of first-year frat boys.
For the sake of learning from others so we don't fall into the same trap, here are 2015's biggest brand mistakes, as compiled by the New York Daily News:
Bud Light doesn't know that no means no
The nation's most popular beer became the "date rape beer" in April when it seemingly encouraged rape with a bottle label.
"The perfect beer for removing 'No' from your vocabulary from the night #upforwhatever," the label read.
Bud Light eventually apologized for the gaffe.
"It's clear the message missed the mark and we regret it," Bud Light Vice President Alexander Lambrecht said in a statement. "We would never condone disrespectful or irresponsible behavior."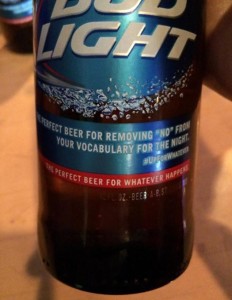 Starbucks' Race Together unites critics
At least we're united in mockery.
Starbucks' "Race Together" campaign — an attempt to turn stores into impromptu forums for racial dialogues and ultimately bring people together — became an Internet joke shortly after its March rollout.
The coffee giant asked its baristas to write "Race Together" on cups to spur spontaneous discussions with customers about race. But the concept drew so much ridicule online, Starbucks pulled the plan days later.
Heinz's kinky ketchup
That's not a URL for condiments.
The QR code on the back of the Heinz bottle took ketchup lovers to its promotional website — until it expired and redirected condiment consumers to a porn site.
A German customer discovered the mix-up after he scanned his bottle and discovered a barrage of nude women instead of recipes and coupons.
"Your ketchup is probably not for minors," Daniel Korrel wrote on Heinz's Facebook page, alerting the company to the erotic mistake.
IHOP mocks flat-chested women with flapjacks
Well, this joke fell flat.
IHOP tried to promote its pancakes with a crude punchline about breasts.
"Flat but has a GREAT personality," the diner chain tweeted alongside a photo of a short stack.
The tasteless message started a firestorm of Twitter backlash, and the pancake chain eventually apologized for the juvenile humor: "Earlier today we tweeted something dumb and immature that does not reflect what IHOP stands for. We're sorry."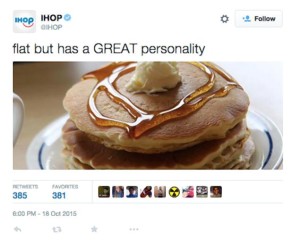 Urban Outfitters forgets history
Urban Outfitters drew ire over a Holocaust-esque tapestry.
Historians and activists slammed the trendy clothing giant after it began selling a gray and white stripped fabric speckled with pink triangles — a pattern that looked eerily similar to the prison garb gay men were forced to wear in Nazi concentration camps.
 The company never officially pulled the controversial cloak, but its photo was taken off the company website after the backlash. Instead a "Triangle-Stripe Curtain," with no picture provided, was listed as "sold out."
SeaWorld's transparency campaign backfires
After years of backlash over the way it treats its animals, SeaWorld began "Ask SeaWorld," a campaign that encourages the public to ask questions about the park in a bid to bust myths spread by critics.
But the park's opponents seized the chance to blast their foe yet again.
Animal rights activists bombarded SeaWorld's social media accounts with damning questions, such as "Why are your parking lots bigger than your Orca tanks?"
Amazon's Prime Day is anything but
To celebrate its 20th birthday, Amazon promised a sale day "better than Black Friday."
The promise held true — so long as you were in the market for beard-growing cream, Adam Sandler movies, shoe horns and floppy disks.
The much-hyped Prime Day did include big discounts on electronics and high-end fashion goods, but customers mocked the bizarre assortment of "garage sale goods" also on sale.
The Seahawks compare MLK's legacy to football
The Seattle NFL team celebrated its conference victory by tweeting a Martin Luther King, Jr. quote — on MLK Day.
"We shall overcome. #MLKDay," the Seahawks tweeted a day after the title game, which landed the team in its second straight Super Bowl.
The message included a picture of quarterback Russell Wilson crying, next to a quote from the legendary civil rights leader: "Take the first step in faith. You don't have to see the whole staircase, just take the first step."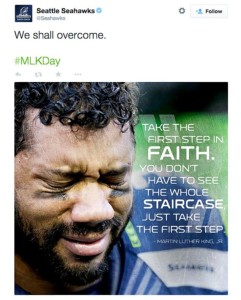 Target makes mental illness fashionable
OCD is a serious mental disorder — or a jolly passion for Christmas, apparently.
Target fell into hot water in November when it started selling a red-and-green sweater declaring "OCD: Obsessive Christmas Disorder." Critics argued the garb made light of the real OCD, obsessive-compulsive disorder.
Target acknowledged the criticism, but never pulled controversial garment.
"We never want to disappoint our guests and we apologize for any discomfort. We currently do not have plans to remove this sweater," a spokesperson said.
Bloomingdale's sells sex — and date rape
The department store's holiday catalog featured fashion, gifts and an offensive joke about raping your BFF.
A spread in the book showed a blonde woman tossing her head back and laughing as a stoic man stared at her from the other side of the page.
"Spike your best friend's eggnog when they're not looking," the ad read.
The shocking campaign spurred outage, sparked a conversation about rape culture and prompted Bloomingdale's to issue an apology.
ESPN guru mixes up sports and porn
You've got be careful with copy and paste.
ESPN college football recruiting analyst Gerry Hamilton tweeted about a high school star's college visit schedule in January. But the included URL sent followers to PornHub, not more information on recruitment.
The sports journalist quickly deleted the graphic tweet, but never acknowledged the flub.
Under Armor recreates military history with basketball players
Under Armor waved the white flag this year and pulled a T-shirt critics dubbed offensive to the military.
The "Band of Ballers" shirt showed four basketball players raising a hoop — mimicking the iconic photo of soldiers planting the American flag at the Battle of Iwo Jima during World War II.
The athletic company removed the shirt in May quickly after the backlash and offered a three-tweet apology to the military, its veterans and its supporters.
"Under Armour has the utmost respect and admiration for active duty service men and women and veterans who have served our country," the company wrote. "We deeply regret and apologize the release of a shirt that is not reflective of our commitment to support & honor our country's heroes."