Cool Drinks for Warm Weather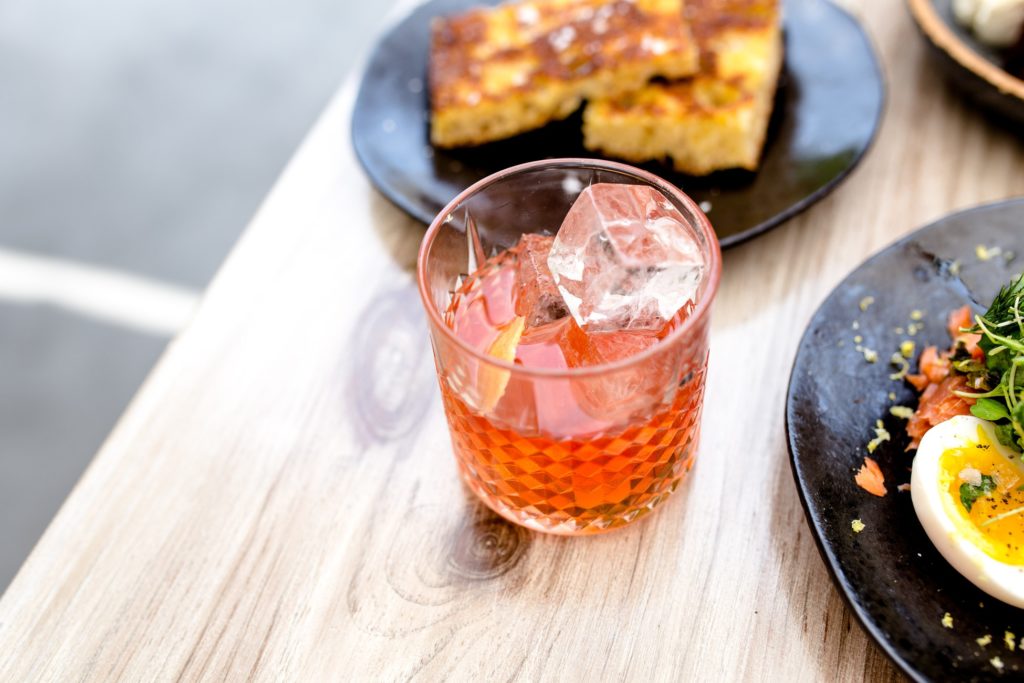 The official start of summer may still be a few weeks away, but the warm weather is luring many of us outside, drink in hand. In today's blog, our team shares our summer beverages of choice – alcoholic and nonalcoholic alike. Cheers!
Lisa H.
I'm a die-hard champagne enthusiast (and really anything in the bubbles variety!), so my go-to summer cocktail is a Mango and Raspberry Bellini. It's refreshing, delicious and incredibly simple to make.
Just combine one cup each of frozen raspberries and frozen mango, 1 tablespoon of coconut sugar (or your sweetener of choice), and a ½ cup of champagne and blend until smooth (adding additional water as needed). Then simply scoop 2 tablespoons of the mango raspberry concoction into a champagne glass and mix with champagne (the more the merrier, depending on your taste preference!). Top with fresh raspberries for garnish, and voila!
Hailey
Scotch is the drink of choice in our house, and a penicillin cocktail's smoky-lemony flavor is the perfect antidote on any too-hot afternoon. It's also great blended.
Ingredients:
2 ounces Blended Scotch whisky
3⁄4 ounce Lemon juice
3⁄4 ounce Honey-ginger syrup
1⁄4 ounce Islay single malt Scotch (Laphroaig is strongly preferable)
Directions:
Combine blended scotch, lemon juice, and syrup in a cocktail shaker and add ice.
Shake and strain into a rocks glass with fresh ice.
Top with single malt Scotch.
Garnish with candied ginger.
Lisa L.-D.B.
Here's a recipe for a refreshing pitcher of ice tea. If one wants to make this drink boozy, you can add vodka or rum.
Ann
My go-to on a sunny day: G & T Dynamite
Ingredients:
1 part Bombay Sapphire Gin
2 parts Tonic Water
Fresh lime
Ice
Directions:
Fill glass with cubed ice. Add gin. Fill with tonic water. Squeeze in juice of lime wedge. Stir gently. Enjoy!
Natalie
My favorite is a mint julep – preferably Alton Brown's version:
Ingredients:
7 fresh mint leaves, plus 1 sprig for garnish
1 1/2 teaspoons demerara sugar
2 1/2 ounces Kentucky bourbon whiskey
Ice cubes
Seltzer water
Directions:
Tear any large mint leaves into pieces, then combine mint leaves and the sugar in an old-fashioned glass or metal julep cup. Muddle these together with a muddler or back of a spoon for approximately 1 minute so the leaves release their essential oils but are still green. Add the bourbon and set aside for 5 minutes.
Meanwhile, wrap the ice cubes up in a clean towel and pound with a rolling pin to crush. Fill the glass with ice and top with a splash of seltzer water. Stir, garnish with remaining mint sprig and serve immediately.
Gretchen
Using a recent find at the farmer's market, Hibiscus Lavender syrup, two ways:
Hibiscus Lavender Soda: 2-3 Tbsp Hibiscus Lavender syrup, juice of ½ lime, sparkling water.
Hibiscus Lavender Margarita: Combine zest of one lime with two tbsp of kosher salt and 2 Tbsp of sugar. Apply to rim of margarita glass. Combine 2-3 Tbsp Hibiscus Lavender syrup, 1 ounce tequila, ½ ounce triple sec and juice of ½ lime.
Savanna
Cold Beer – best enjoyed on a sunny patio
Ingredients:
Directions:
Pour beer into chilled glass. Tilt the glass slightly to avoid excess foam. Drink and be happy.
Kris
We always make sure to have limes on hand as the temperature rises….
The OMG it's 75-degrees! Celebratory Margarita
Ingredients:
2 ounces tequila or mezcal
1 ounce triple sec
.5 ounces simple syrup
1.5 ounces fresh squeezed lime juice
Directions:
Combine everything in a cocktail shaker with ice. Shake and serve over ice in a salt-rimmed glass of your choice.
Addy
I like to keep it simple and sweet.
1.5 ounces tequila
3 ounces orange juice
.5 ounces grenadine
Kick up your feet and enjoy!
Kelda
I've never made this, but it looks delish! Peach Bourbon Thyme Smash:
Ingredients:
2 ounces bourbon
1 ounce lemon juice
1 ounce jalapeno simple syrup (1/2 cup sugar, ½ cup water, ½ of a fresh jalapeno, sliced in half) or plain simple syrup
1 ripe peach
Fresh ice
2 sprigs fresh thyme, one stripped of leaves
Directions:
In a martini shaker add bourbon, lemon juice and simple syrup. Cut peach in half, remove pit and squeeze smashing the peach in your hand over the martini shaker. Any peach pieces that fall in is fine.
Add leaves from fresh thyme
Shake vigorously to infuse ingredients.
Fill a lowball glass with fresh ice and pour in bourbon mix.
Garnish with fresh thyme and a peach wedge {optional}