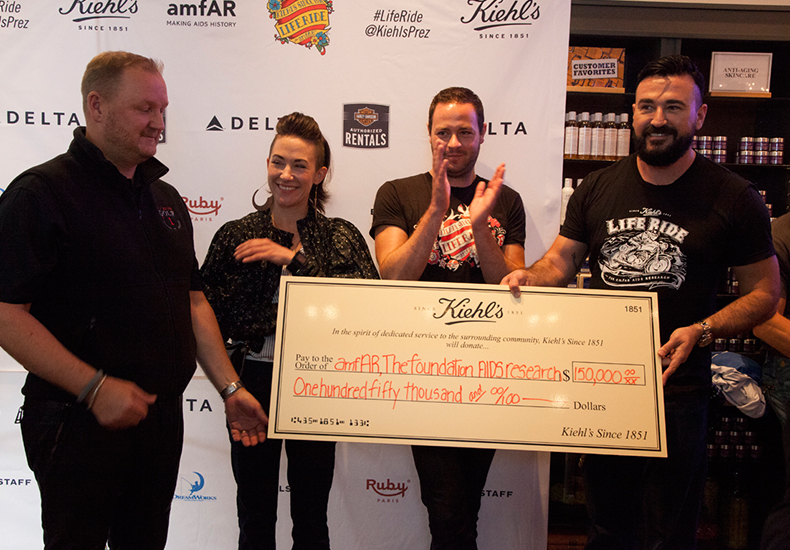 PROJECT DESCRIPTION
In summer 2013, Kiehl's, the New York-based skin and body care company, selected A.wordsmith as its Portland PR partner to create, manage and promote the Portland stop on its annual LifeRide for amfAR. Our main client contact was based out of Kiehl's main office in New York, and we were tasked with planning and implementing the entirety of the day's event within a set budget. This was a multi-day, multi-city motorcycle ride to raise money for amfAR and awareness for HIV/AIDS. LifeRide riders included a combination of celebrities and top-levels executive; we collaborated with actors John Corbett ("Sex in the City"), Gilles Marini ("Brothers & Sisters") and Kurt Yaegar ("Sons of Anarchy"); Kiehl's USA President Chris Salgardo and amfAR CEO Kevin Robert Frost.
Working as a team we developed a "Portlandia"-themed event, which helped determine the day's vendors and festivities. We identified and booked Project Runway winner Michelle Franklin Lesniak as our host, lined up a local ice cream cart and pickle vendor (playing off of the "We can pickle that!" Portlandia episode) to provide easy eats during the event, and arranged live music by local artist Stephanie Schneiderman. In addition, we worked with the Mayor's office to have the day officially declared "LifeRide for amfAR Day."
Behind the scenes we were responsible for working with the City of Portland to block off portions of Northwest 23rd Avenue in front of the Kiehl's store, secure parking for support vehicles, handle all day-of logistics, and staff media interviews. Through our local media outreach, we garnered 13 articles, television interviews and radio mentions, including a one-hour interview with KATU's morning television show "AM Northwest." Through the entirety of our outreach, we reached more than half a million people in the Portland Metro area.