With hustle, heart and flair, A.wordsmith partners with and supports organizations that are working to make our communities healthier, happier and more inclusive for all.
For that reason, we can't help ourselves from getting involved with organizations and causes we believe in. To date, these include:
Our Diversity, Equity and Inclusion Charter
A.wordsmith operates on the belief that amplifying others' voices is the most powerful form of allyship. Every day we gather to share a diverse range of opinions, experiences and perspectives. Our commitment to diversity, equity and inclusion cascades throughout the organization and touches every aspect of our brand, from culture and marketing to client service and professional development. We are proud to partner with Portland Means Progress to further our DEI efforts through accountable planning and reporting. Since our inception, we have committed time and resources to organizations in our community that are dedicated to greater inclusivity and access for underrepresented and minority populations. Through our own media platforms, we work to promote diverse people and places that deserve recognition. Above all, our team is what makes us great, and we continually strive to build and retain the most talented and diverse workforce possible through equitable recruitment, pay and advancement opportunities. We recognize we have much to learn, and we will not shy away from doing the hard and necessary work to ensure diverse, equitable and inclusive representation and operations, both within our walls and beyond.
"A.wordsmith's entirely changed our nonprofit brand's positioning through a strategic and more contemporary approach to external communications. Their team increased our earned media presence by 123% in six months, landing us more press in six months that we had in nearly 25 years! As an executive, I can rely on A.wordsmith as leading experts, who bring a contemporary and best practice approach to mission-based communications which has been perfect for our nonprofit organization."
Cyreena Boston Ashby, CEO, Girls Inc. of the Pacific Northwest
We are a growing local business, and we enjoy working with innovative, successful businesses. We love learning about new practices that propel us to the next level. For that reason we are proud to collaborate with these business resources:
"Like a Boss" Coffee Chats
We know life is busy, and we know the demands are high. We also know the power of coming together, getting motivated, and going out and taking on the day. Our Coffee Chats are designed to be a 60-minute break from the daily grind, a brief snippet of your life to join with fellow leaders, entrepreneurs, young professionals and just overall kick-ass people, in an inspiring setting, and talk about things that make us think, laugh and take positive action. Our Coffee Chats are held in our office and are open to the public. You can see our past events and what's coming next by following the link below. We look forward to having you join us!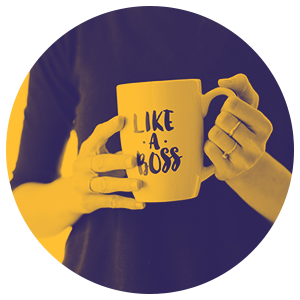 Check out the book 100 Things to Do in Portland, Oregon Before You Die (Second Edition!), by our very own Ann Smith.
"In this second edition of 100 Things to Do in Portland, Oregon Before You Die, we've added some of our favorite old haunts as well as a few newly discovered gems. Whether it's tried-and-true or up-and-coming, we promise if it's in here, it's worth your time. We Portlanders love craft beer, bike lanes, and all things vintage. We pride ourselves on being hipsters, foodies, and major league soccer fans. It's our goal to represent all facets of the city in this book: from the gardens to the shops and the festivals to the bars. If you're in Portland on vacation, this collection of greatest hits is sure to get you beyond the typical tourist hot spots. If this is home, we challenge you to uncover something in these pages not yet on your Portland bucket list."