The Making of a Thought Leader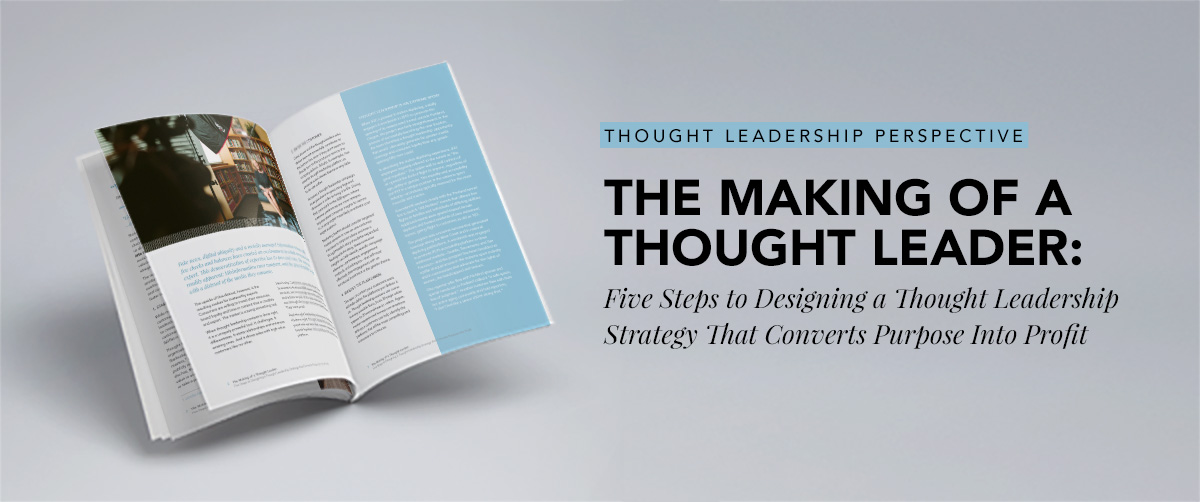 Customers, particularly those in the business-to-business (B2B) space seeking premium services, are increasingly demanding education and advice as part of the sales experience. They see through the bright-and-shiny marketing speak. They want proof.
Thought leadership just may be the biggest buzz term in marketing today, and for good reason: It's the proof that decision-makers in the market for premium services need. It may be buzzy but it's a practice as old as storytelling itself. And when it is strategically designed and delivered, thought leadership is a uniquely powerful tool. It challenges. It differentiates. It starts relationships and enhances existing ones. And it drives sales with high-value customers like nothing else.
 
Our latest downloadable white paper helps organizations at all levels identify the opportunities and frame up the strategy of thought leadership campaign that converts purpose into profit. Through the lens of the five building blocks to successful thought leadership, "The Making of a Thought Leader" empowers readers to avoid the thought leadership fad in favor of an approach that is authentic, human-driven and activating.
 
In this paper, you'll find:
A step-by-step guide to spotlighting and optimizing your best thought leaders and their stories
The five classic storytelling elements your thought leadership content should include
Every leader and every enterprise has thought leadership potential. Download the full white paper here to discover how to tap into that potential in ways that drive bottom-line results.