Come Together. Get Inspired.  Go Live Your Best Life.
Passion in Business
Doing Good, Being Good:
The Power of Giving Back
Warning: Badass Women at Work
Inspire Yourself!
Together with PRSA:
Journalism Done Right!
When the Day Job Isn't Enough
Keeping it Real in Portland
Women Changing the Conversation
Living with Pride
Talk Like a Boss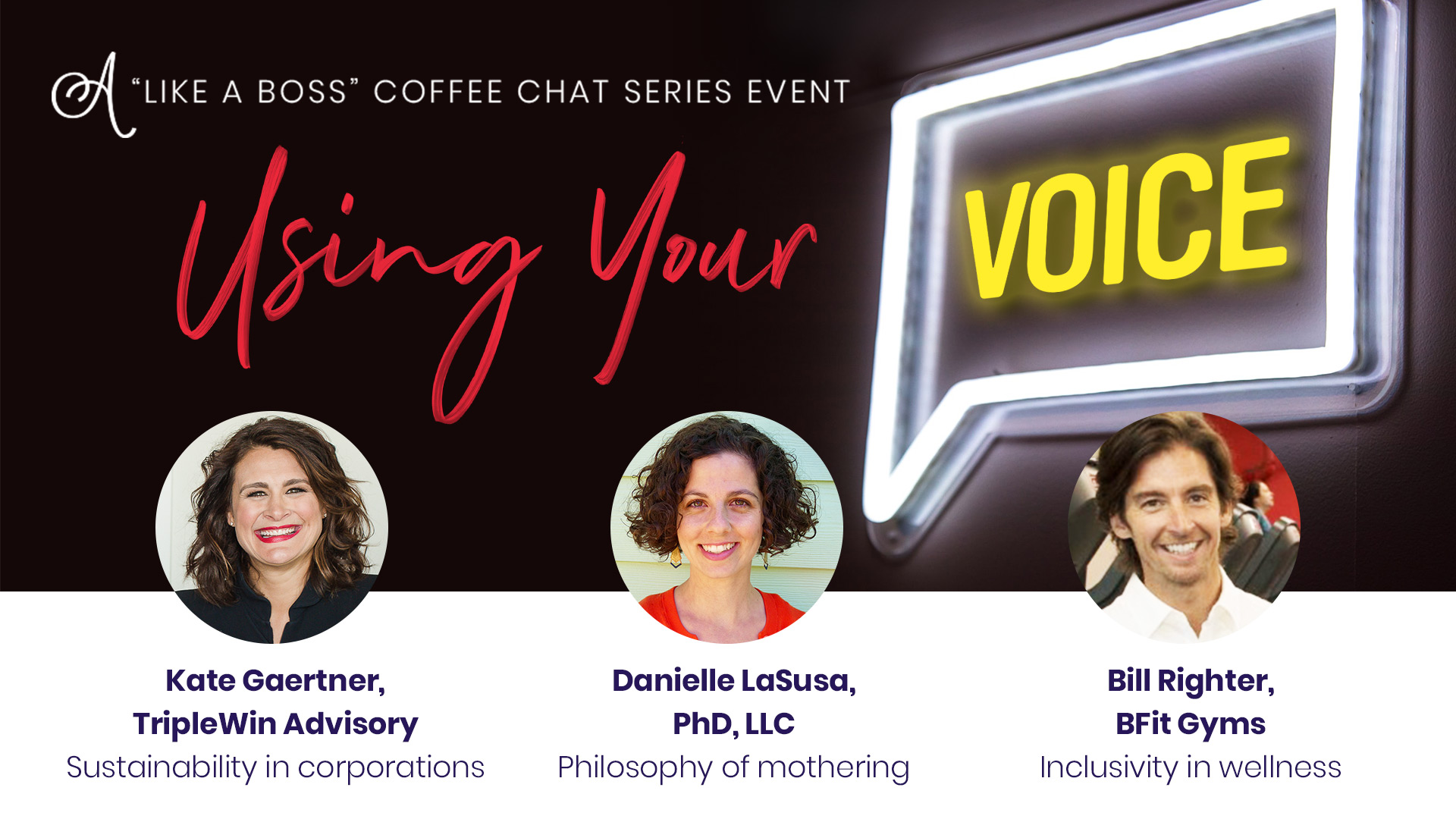 A small spark of an idea has the power to ignite a powerful flame when it's stoked correctly. At our November "Like a Boss" Coffee Chat we're talking to three people who took something personal and acted on it in such a way that is now shaping not just their individual lives but also their professional careers.
Join us on Tuesday, November 19 for our next "Like a Boss" Coffee Chat on the topic of "Using Your Voice." Through their own life paths, each of our panelists recognized a need and took the initiative to be drivers of change in their fields: corporate sustainability, parenting and health & fitness. Now authors, managers and business owners these thought leaders exemplify what it means to seize an opportunity by speaking up and speaking out.
Kate Gaertner, owner of Triple Win Advisory and corporate sustainability expert
Danielle LeSusa, owner of Danielle LaSusa PhD, LLC and philosopher on what it means to create a human being
Bill Righter, managing director at BFit gyms and advocate for inclusivity and economic equality in the fitness industry
DETAILS:

Tuesday, November 19, 2019
10am - 11am
A.wordsmith Office
420 SW Washington St., Suite #205
Portland, OR 97204
503.227.0851
Free to attend. Donuts and coffee will be served!
"Thank you so much for hosting a wonderful Coffee Chat this morning and inviting us into your wonderful space. It was great to hear about collaboration between community and business and how we can make giving back part of our professional lives."
Recent attendee