Come Together. Get Inspired.  Go Live Your Best Life.
Passion in Business
Doing Good, Being Good:
The Power of Giving Back
Warning: Badass Women at Work
Inspire Yourself!
Together with PRSA:
Journalism Done Right!
When the Day Job Isn't Enough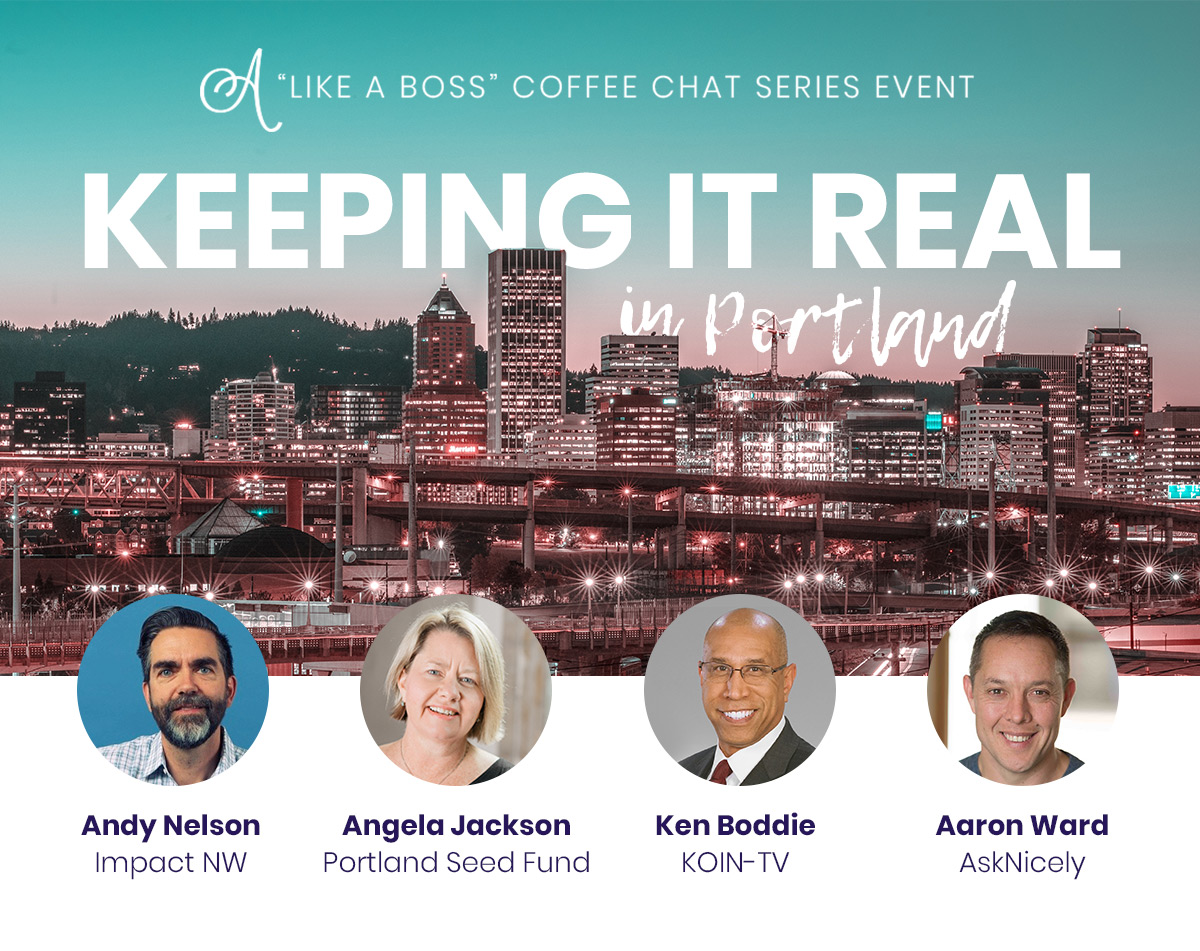 Portland is known for many things: great food and drink, an abundance of outdoor adventures, a thriving tech scene and a creative culture. On the flip side, the city has its fair share of challenges: homelessness, tightening infrastructure and high cost of living. It's easy to take for granted where we live and work every day, so let's take a moment to pause and ask, "Why Portland?" What makes this city special, how has it changed, what's next—and mostly, where do we all fit in?
Join us on Tuesday, February 26 for our first "Like a Boss" Coffee Chat of 2019. We're bringing together four local executives with four very different Portland stories. A community leader committed to equality for Portland's diverse and underserved audiences for the past 25 years; a venture capitalist, angel investor and advisor with her finger squarely on the pulse of Portland's startup scene; a trusted broadcast journalist who has been covering Portland for more than 35 years; and a technology entrepreneur and recent Portland transplant all the way from Auckland, New Zealand.
Come hear what they love most about Portland, what they are motivated to impact in 2019 and how we can all play a role in keeping the city special (and weird!).
Andy Nelson, associate director at Impact NW (previously with Big Brothers Big Sisters Columbia Northwest and Hands on Greater Portland)
Angela Jackson, co-founder and managing director of the Portland Seed Fund and director of the Portland State University Center for Entrepreneurship and Business Accelerator
Ken Boddie, news anchor and reporter at KOIN-TV
Aaron Ward, co-founder and CEO at AskNicely
Carve out 60 minutes to get informed and inspired. RSVP to Hannah at hannah@awordsmith.com by February 22nd.
Tuesday, February 26, 2019
10-11 am
A.wordsmith Office
420 SW Washington St., Suite #205
Portland, OR 97204
503.227.0851
Free to attend. Coffee and donuts will be served.
"Thank you so much for hosting a wonderful Coffee Chat this morning and inviting us into your wonderful space. It was great to hear about collaboration between community and business and how we can make giving back part of our professional lives."
Recent attendee