Come Together. Get Inspired.  Go Live Your Best Life.
Passion in Business
Doing Good, Being Good:
The Power of Giving Back
Warning: Badass Women at Work
Inspire Yourself!
Together with PRSA:
Journalism Done Right!
When the Day Job Isn't Enough
Keeping it Real in Portland
Women Changing the Conversation
Living with Pride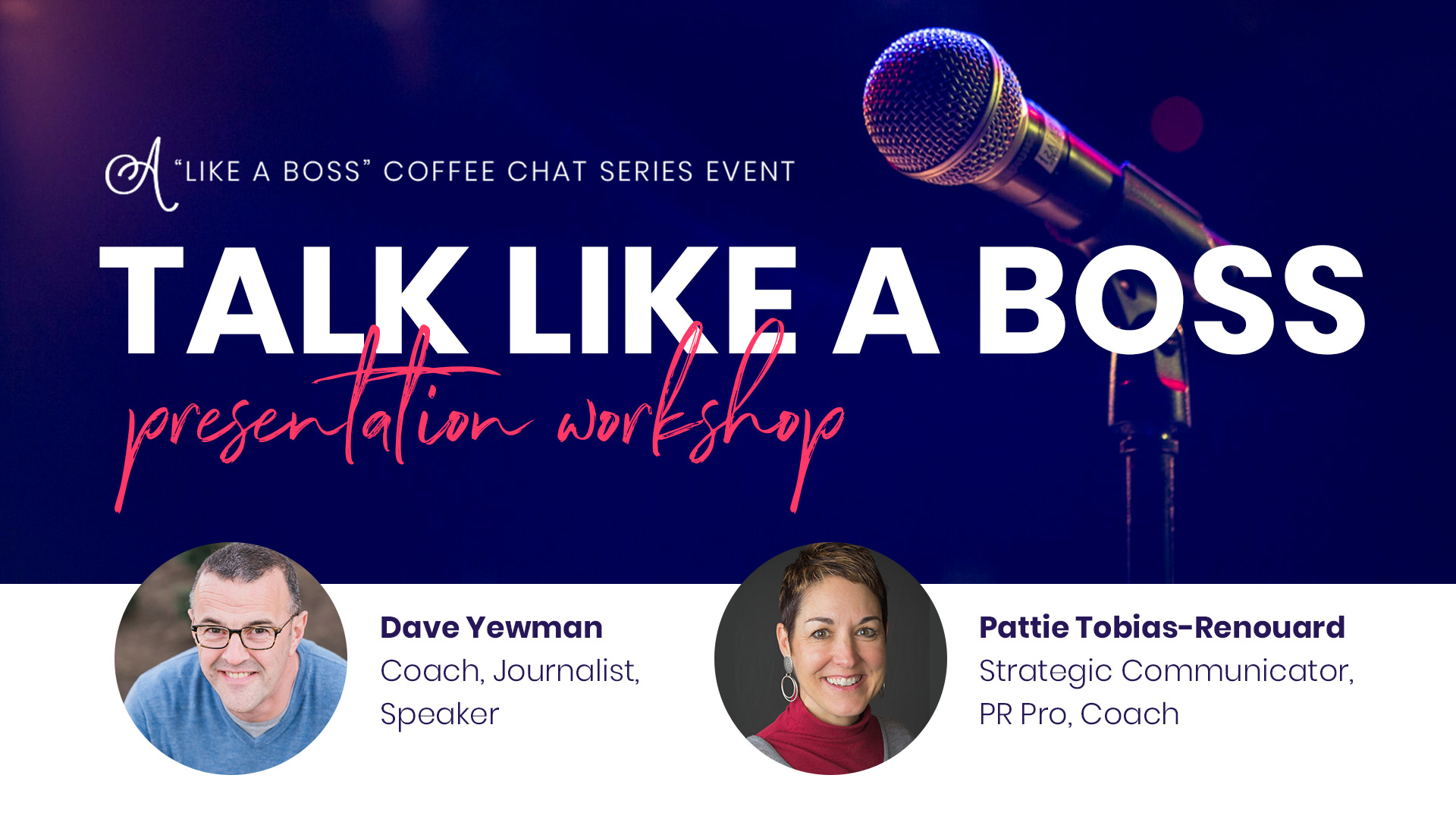 What do new business pitches, networking events and family reunions all have in common?  People at all of these functions love asking the dreaded, "What do you do?" question, and you know that what they really mean is, "How are you different and why should I care?"
Join us for a unique take on our regular "Like a Boss" Coffee Chats and participate in this hands-on "Talk Like a Boss" Presentation Workshop. Learn to eliminate bad presentation habits while garnering new tips and tools that can immediately be put to use.
Fair warning: video will be used. We know this can be painful but seeing yourself deliver your elevator pitch on camera allows you to know exactly what's working — and what isn't.
By the end of the morning you will:
Understand how to pitch yourself and/or your organization
Know how to avoid common mistakes like non-words or bad body language
Have a newfound confidence that feels damn good!
Dave Yewman
Dave is a strategic communications expert with more than 25 years of experience in the field. A former newspaper reporter and columnist, Dave has counseled senior executives at a variety of companies, managed communications teams and led business development efforts. His clients include thousands of executives at numerous companies including Google, Microsoft, Snapchat, adidas, Red Bull, Alaska Airlines, Clif Bar, Mercy Corps, and Under Armour to name a few. He has spoken to numerous groups about how to use clear, concise, compelling language as a strategic weapon when dealing with reporters, employees, sales prospects, shareholders and consumers.
Pattie Tobias-Renouard
Pattie's strength lies in helping her clients articulate clear, concise, compelling messages. As a long-time PR pro, Pattie has helped shape communications for a variety of organizations, large and small. She has delivered advanced presentation skills workshops and one-on-one coaching for adidas, UC Berkeley, Cambia Health Solutions, Google, Oregon Health Sciences University, Weiden + Kennedy, and more. She's also worked with the YWCA, non-profits of various stripes, AOL (remember them?), and many more.

LOGISTICS:
Tuesday, September 17, 2019
10am - 12pm
A.wordsmith Office
420 SW Washington St., Suite #205
Portland, OR 97204
503.227.0851

To ensure adequate space and collaboration, we are limiting the "Talk Like a Boss" Workshop to 20 attendees. Grab a friend and come together! Please RSVP to Matilde at matilde@awordsmith.com by September 11. All participants will receive a copy of the book Weekend Language and a PDF with workshop takeaway tips.

Coffee and donuts on hand to provide fuel for your morning!
$20 workshop fee will be donated to Girls Inc. of the Pacific Northwest.
"Thank you so much for hosting a wonderful Coffee Chat this morning and inviting us into your wonderful space. It was great to hear about collaboration between community and business and how we can make giving back part of our professional lives."
Recent attendee