A.wordsmith Recognized with Five Spotlight Awards from PRSA Oregon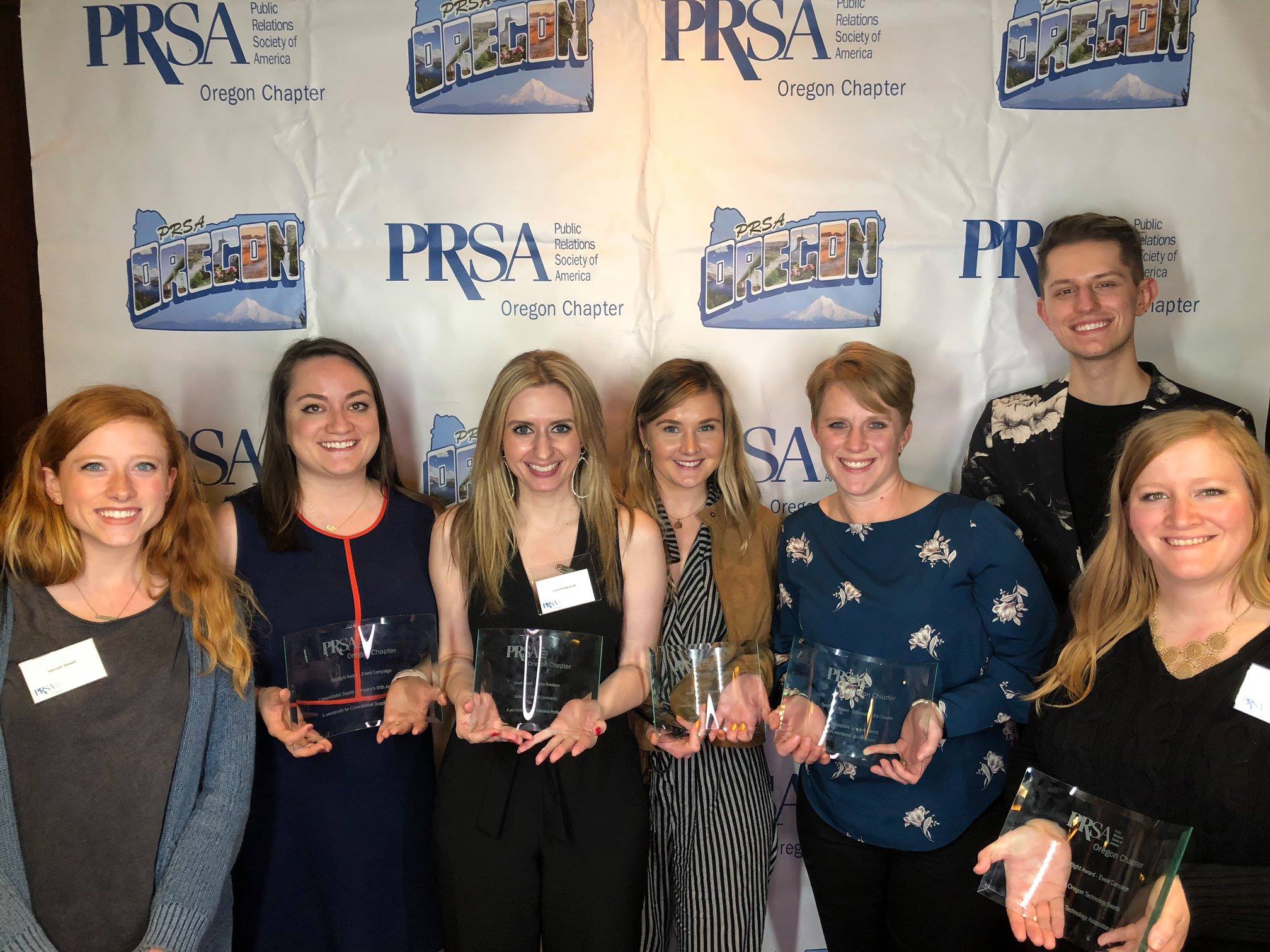 Some of the A.wordsmith team at the 2018 Oregon event.
- FOR IMMEDIATE RELEASE -
PORTLAND, Ore. (Nov. 9, 2019) – A.wordsmith, a boutique communications firm specializing in thought leadership public relations and writing, earned five 2018 Spotlight Awards from PRSA Oregon for work done on behalf of clients in the past 12 months.
The firm was recognized in the categories of event campaign, editorial/op-ed column, media relations and B2B marketing. Winning campaigns were for A.wordsmith's partnership with Technology Association of Oregon, Consolidated Supply Company, Unosquare, ProKarma and All Classical Portland.
"It is very exciting to receive each of these Spotlight awards," said Ann Smith, president and founder of A.wordsmith. "We get a thrill out of the work we do on behalf of our clients every day, and being recognized by colleagues in our own industry is icing on the cake."
Hosted by PRSA Oregon, the Spotlight Awards honor communications campaigns and professionals across Oregon and SW Washington. Winners were announced at the award ceremony on November 7, 2018 at the Multnomah Athletic Club. Award entries are evaluated by at least two PR professionals, one of whom must be nationally accredited by PRSA. Judges determine winners based on the research, planning, implementation and evaluation of each PR campaign.
---
ABOUT A.WORDSMITH
Founded in 2009, A.wordsmith is a boutique communications firm specializing in thought leadership public relations. The firm's core areas of expertise are media relations, writing, corporate positioning, social media and design. Strategically designed and delivered, A.wordsmith's brand of PR is a uniquely powerful tool. It challenges. It differentiates. It starts relationships and enhances existing ones. And it drives sales with high-value customers like nothing else. Clients of A.wordsmith include Mammoth HR, ProKarma, Propeller, Levy Restaurants, OVO and IDL Worldwide.
For more information contact:
Hannah Sewell
901.848.4421
hannah@awordsmith.com
SaveSave
SaveSave