A.wordsmith Earns Three PRSA Spotlight Awards in 2017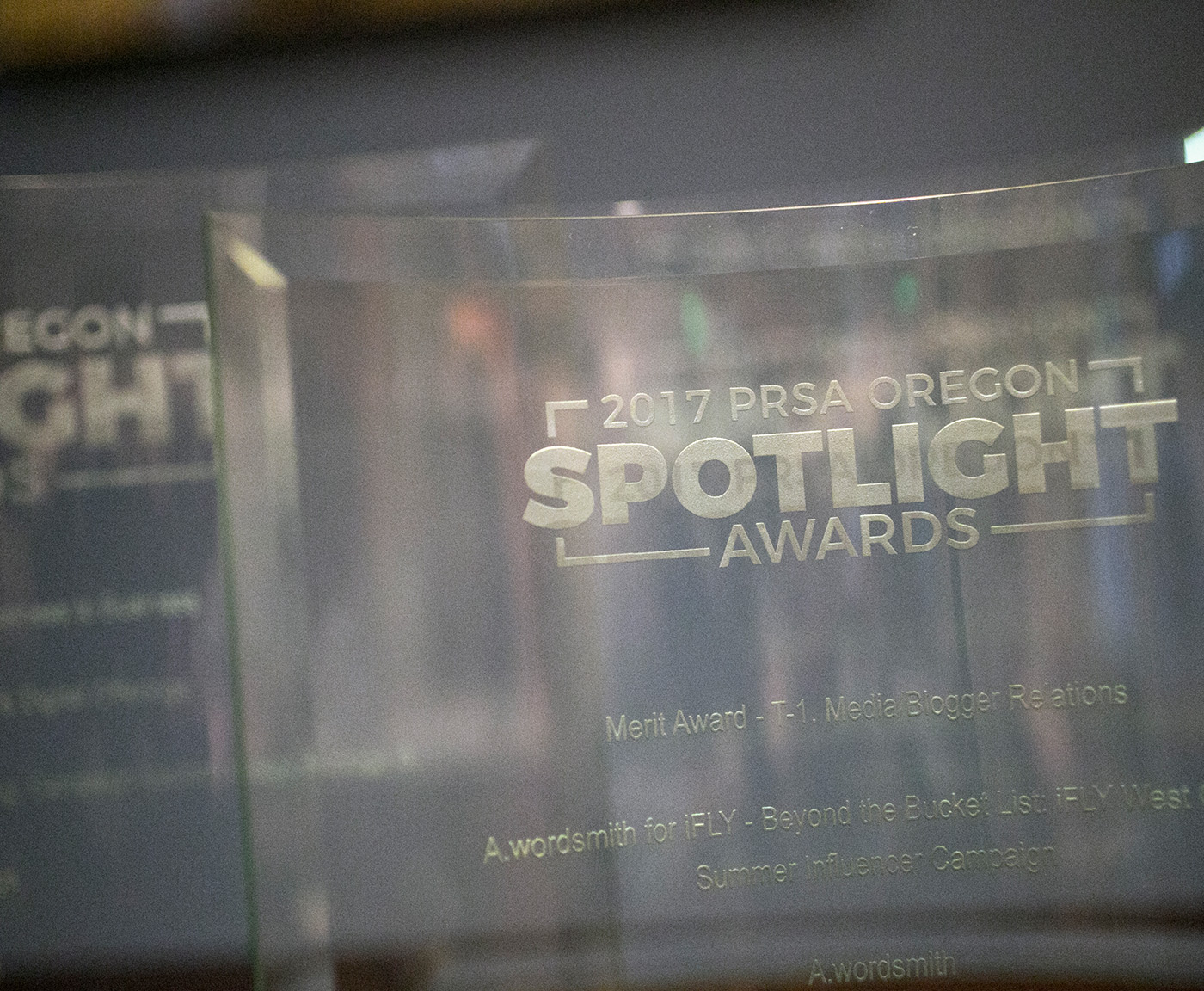 - FOR IMMEDIATE RELEASE -
PORTLAND, Ore. (December 12, 2017)— A.wordsmith, a communications firm specializing in thought leadership, public relations and writing, earned three Spotlight Awards in the categories of media relations, events, and B2B marketing at the 2017 PRSA Oregon Spotlight Awards. 
At the ceremony, A.wordsmith received recognition for the major successes of its 2017 campaigns, including a Spotlight Award in B2B marketing for client North Highland Worldwide and a Spotlight Award in the media relations/events category for its work on the grand opening of Michael Jordan Steak House and Line & Lure Seafood Kitchen and Tap at ilani Casino Resort. A.wordsmith also took home a Merit Award for its media and blogger relations efforts for the iFLY Indoor Skydiving. 
"It was a thrill to be recognized at this year's PRSA Spotlight Awards," said Ann Smith, president at A.wordsmith. "Thanks PRSA; we are already looking forward to more exciting accomplishments in the year to come!"
---
ABOUT A.WORDSMITH
Since 2009 A.wordsmith has been providing strategic thought leadership PR and writing programs for clients with complex stories to tell and manage. Our team is comprised of expert public relations practitioners, all of whom have deep expertise in media relations, corporate positioning, strategic writing, brand identity and marketing communications. Utilizing a variety of communication strategies, A.wordsmith specializes in developing and implementing results-driven programs that showcase our clients as experts in their fields. Clients of A.wordsmith include ProKarma, Propeller, Metal Toad, The Program, Levy Restaurants, iFLY and IDL Worldwide.
For more information contact:
Ann Smith
503.956.2791 
ann@awordsmithcomm.com