New McDonalds Ad Tugs at Heartstrings but Receives Criticism
Did see you see McDonalds' new heartwarming commercial while watching the Golden Globes or NFL playoffs earlier this week?
I admit that I liked it. The heartfelt ad showed a photo montage of messages posted on various McDonald's signboards by some of the fast food restaurant's franchises, including "Thank you Veterans", "We Remember 9/11", "Boston Strong" or community-based messages like birth announcements and anniversary and birthday celebrations. Some of the images showed the golden arches standing strong amongst national disasters, like floods or hurricane damage. And the ad was set to a children's choir singing the song "Carry On" by Fun. The perfect mix to get to your emotions.
However, of course, the ad is receiving a lot of backlash, criticizing McDonald's for using national tragedies to sell burgers, or pointing out that the fast-food giant still serves unhealthy food and doesn't pay its workers a decent wage.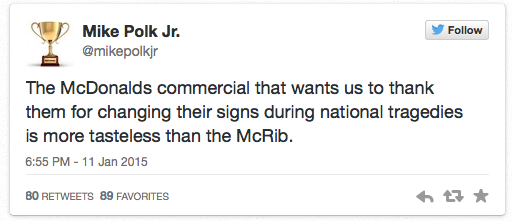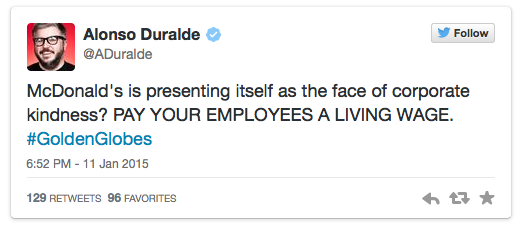 Others think, that despite the ad's controversy (or perhaps due to it) the ad might actually work. The Huffington Post reports, "Despite the skeptics, the emotional advertising may actually be the Golden Arches' best hope to draw people in. With chains like Five Guys, Shake Shack and even Chipotle offering quick, fresh and relatively cheap alternatives to McDonald's, the most salient reasons for many to order a Big Mac are nostalgia and familiarity."
What do you think of the commercial? I guess we just have a few more weeks to see what commercial McDonald's has planned for the coveted Super Bowl spot.